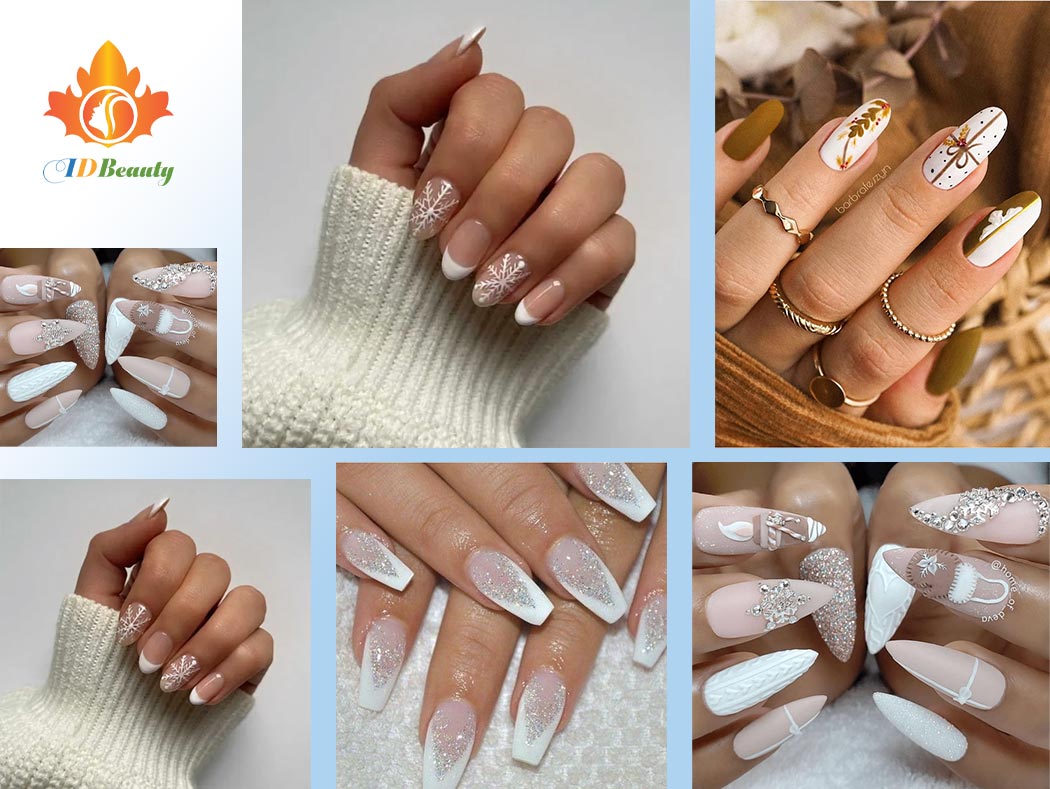 7 Gorgeous White Christmas Nails To Wear
Christmas is a wonderful season full of bright and colorful decorations. While red and green are traditional Christmas hues, other colors such as white, navy blue, frost blue, silver, and gold are also appropriate for your nails during this season.
White is usually a traditional choice for Christmas nails and creates a perfect background for some festive nail arts - the Christmas patterns, such as snowflakes, gold foil, eucalyptus branches, and candy canes.
Christmas nails in white cable sweater
These long, oval nails are stunning and sophisticated, making them an excellent choice for a lovely yet understated Christmas look. The charming cable design that runs over each nail is reminiscent of warm winter sweaters.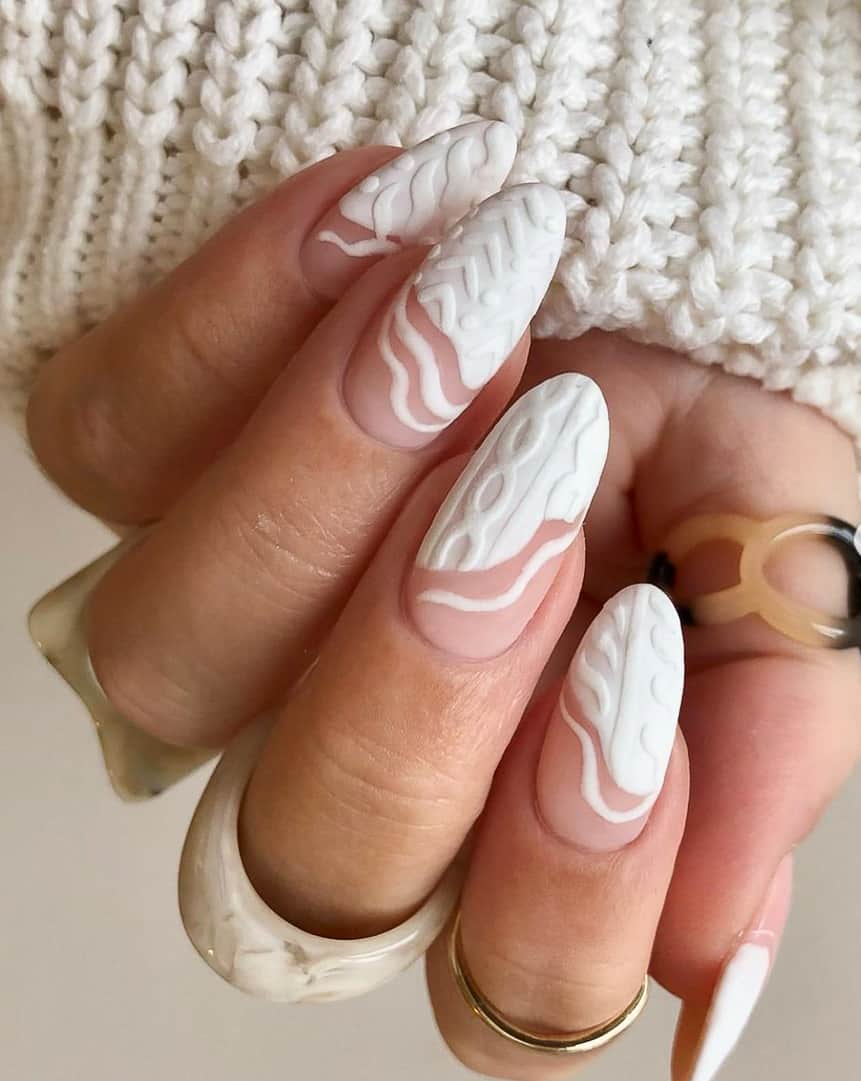 Source: Via Instagram @swaknails
White French tip nails with mistletoe
We adore this modern take on traditional French-tipped nails. Long nails with a white polish tip and a delicate cable sweater motif.
The mistletoe berries and leaves at the bottom of the French tip provide a Christmas touch to this manicure.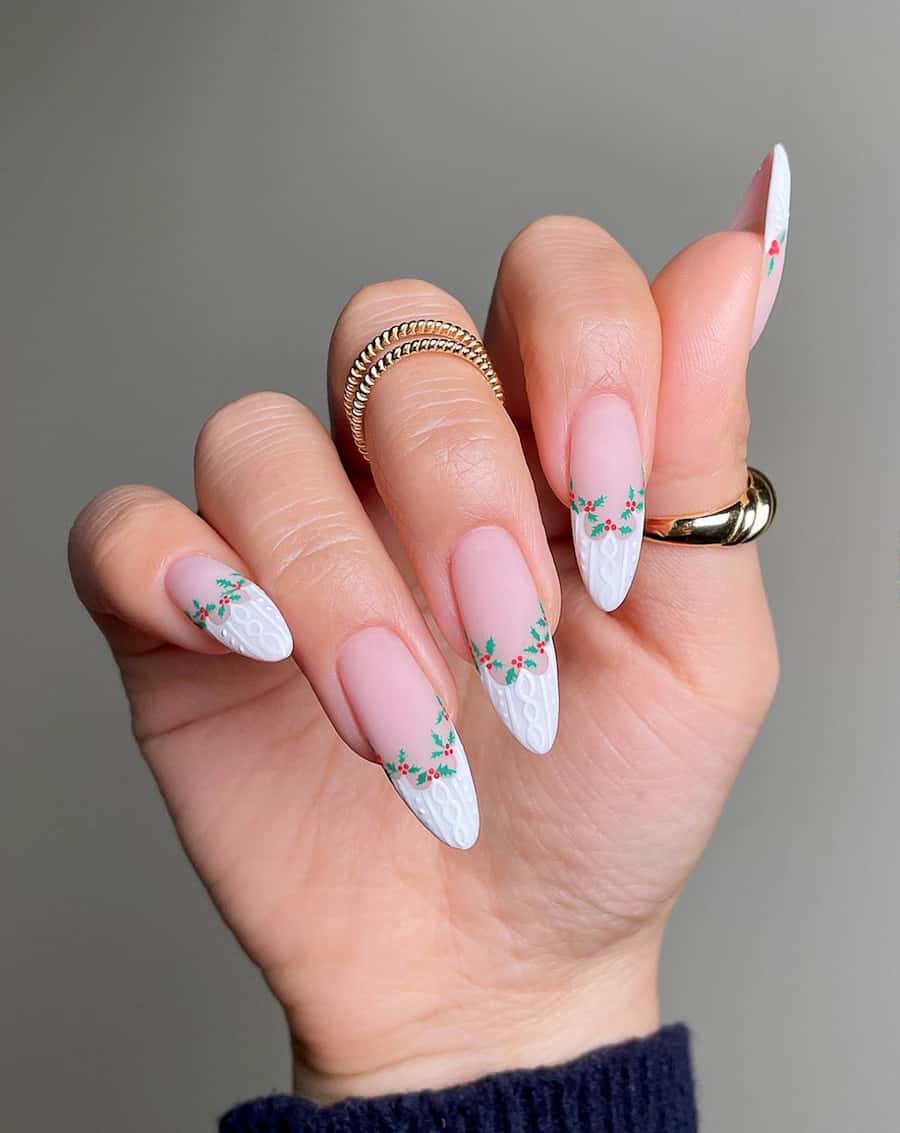 Source: Via Instagram @sansungnails
Blue nails with white snowflakes
These coffin-shaped nails are gorgeous when painted in a light, pastel blue. The snowflakes and white embellishments add to the white Christmas vibe, while the gold flecks elevate these nails to the sophisticated and fashionable level.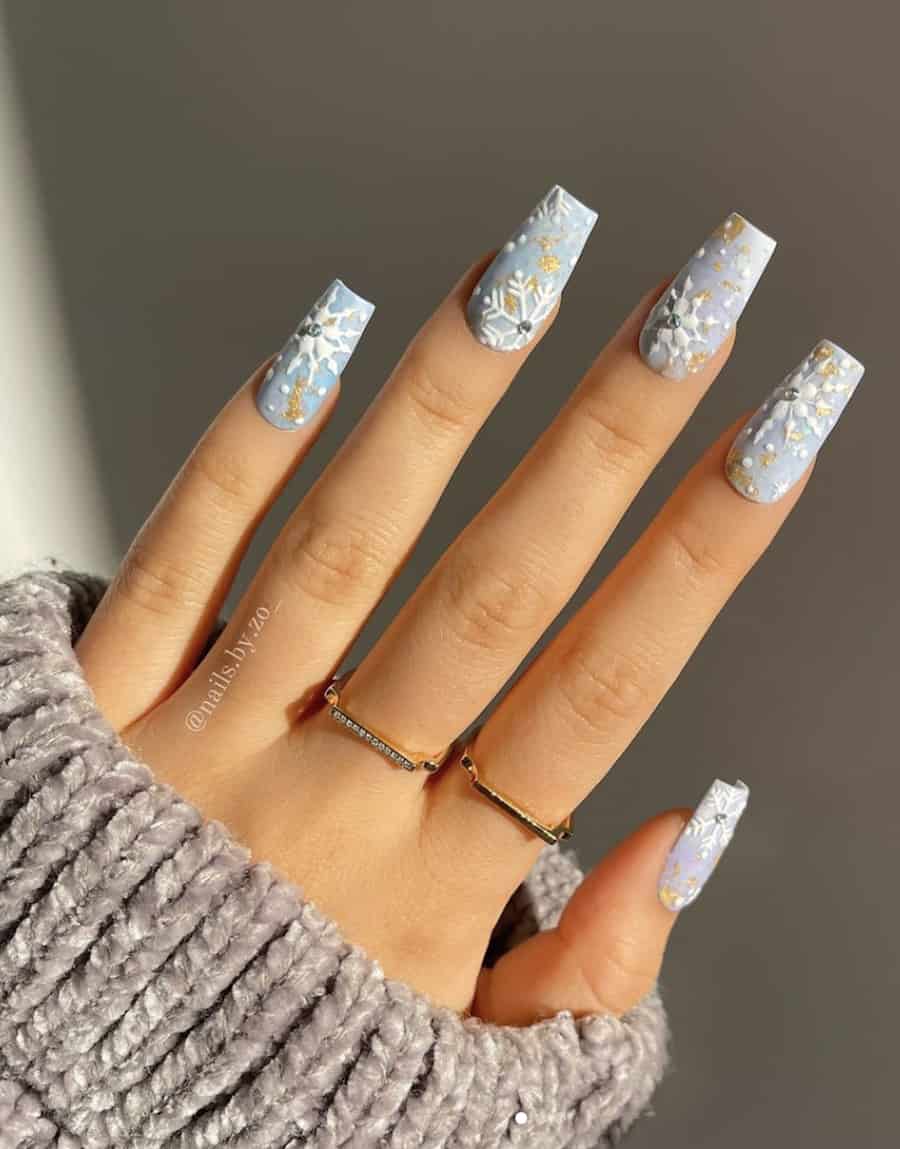 Source: Via Instagram @nails.by.zo_
Nude and white Christmas nails
The aesthetic of natural nails with white French tips is classic. The two accent nails, which are embellished with beautiful snowflakes, offer a Christmas touch.
If you're searching for a discreet Christmas nail to wear this winter, this is an excellent option.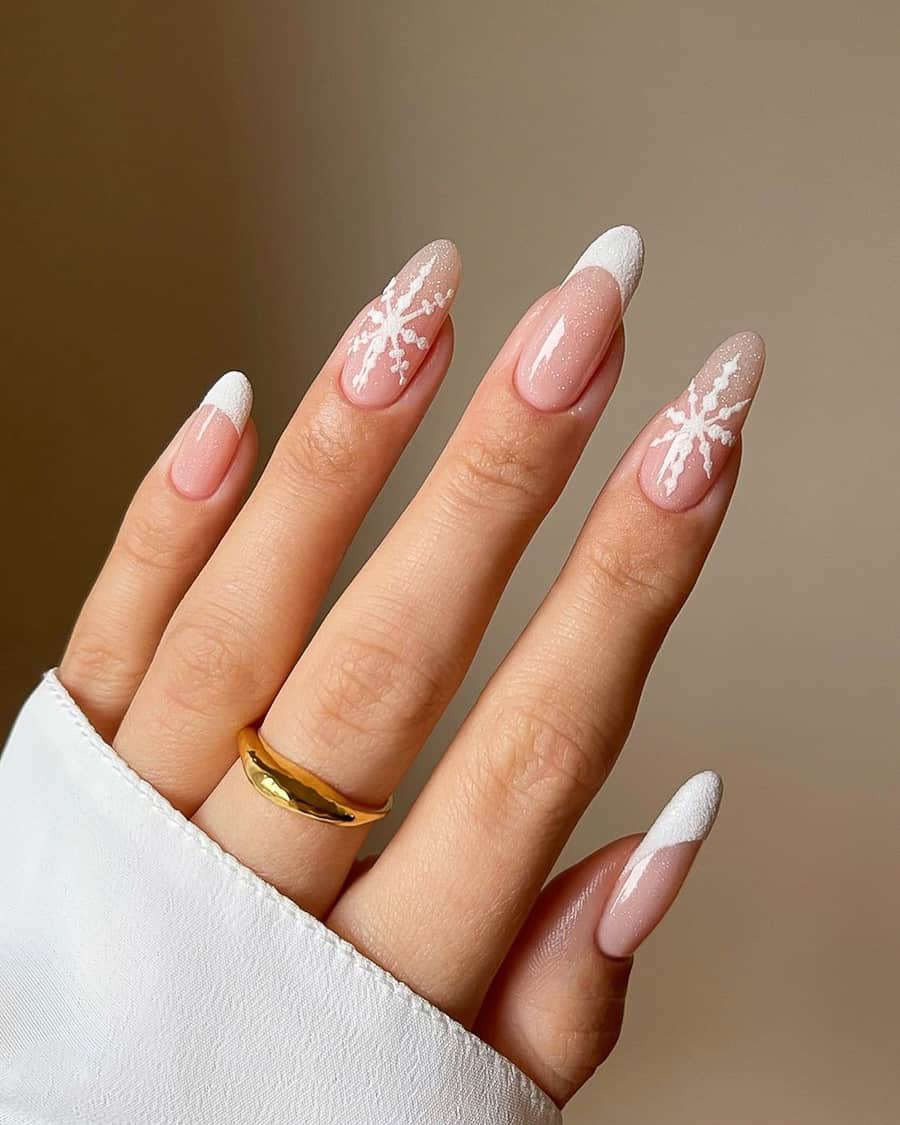 Source: Via Instagram @tiffanyabbigailebeauty
White nails with the snowflake texture
Long, bold nails in classic hues are something we can't get enough of. The delicate snowflake texturing complements the plain white nails well.
If you want something charming yet elegant, this is another fantastic snowflake nail style to attempt.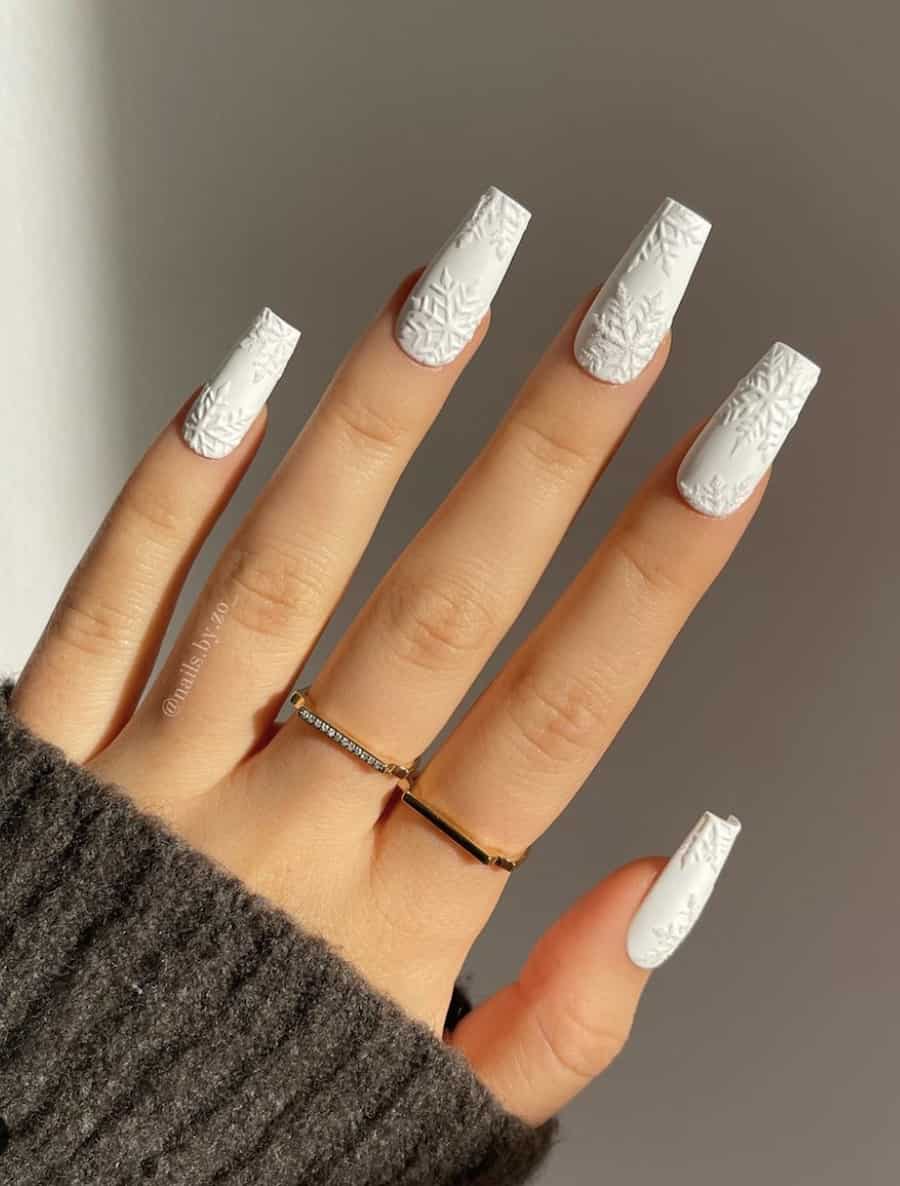 Source: Via Instagram @nails.by.zo_
Coffin nails with green and gold leaves
These coffin nails have a frosty winter appearance due to their transparent appearance. Despite the fact that the leaves on these nails are dark green, the translucent design keeps them looking sleek and sophisticated.
Gold decorations on the ring finger offer a sumptuous touch as well.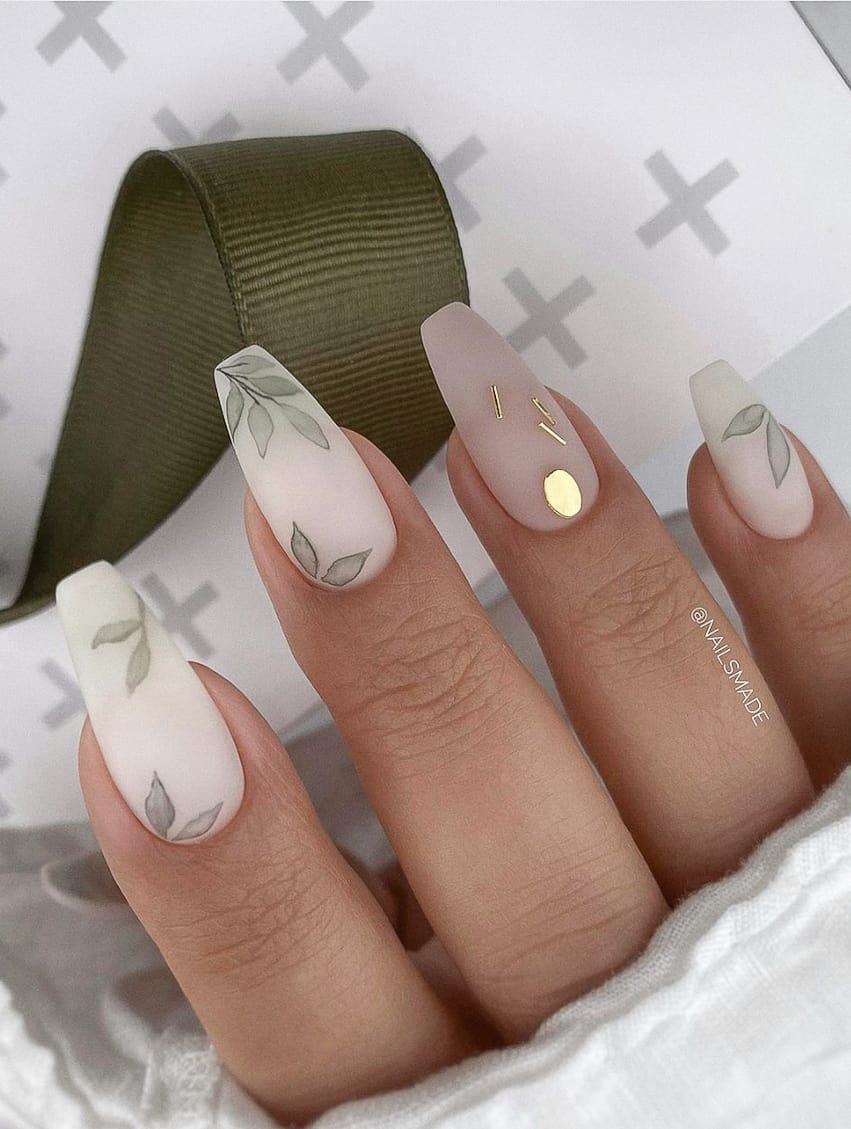 Source: Via Instagram @nailsmade
White Christmas nails with silver leaf accents
This gorgeous manicure has a festive flair to it while remaining polished and elegant. We adore how the nails have various floral motifs on each finger.
The sparkling silver looks wonderful, and the deep grey gives depth to the nails that complete the appearance.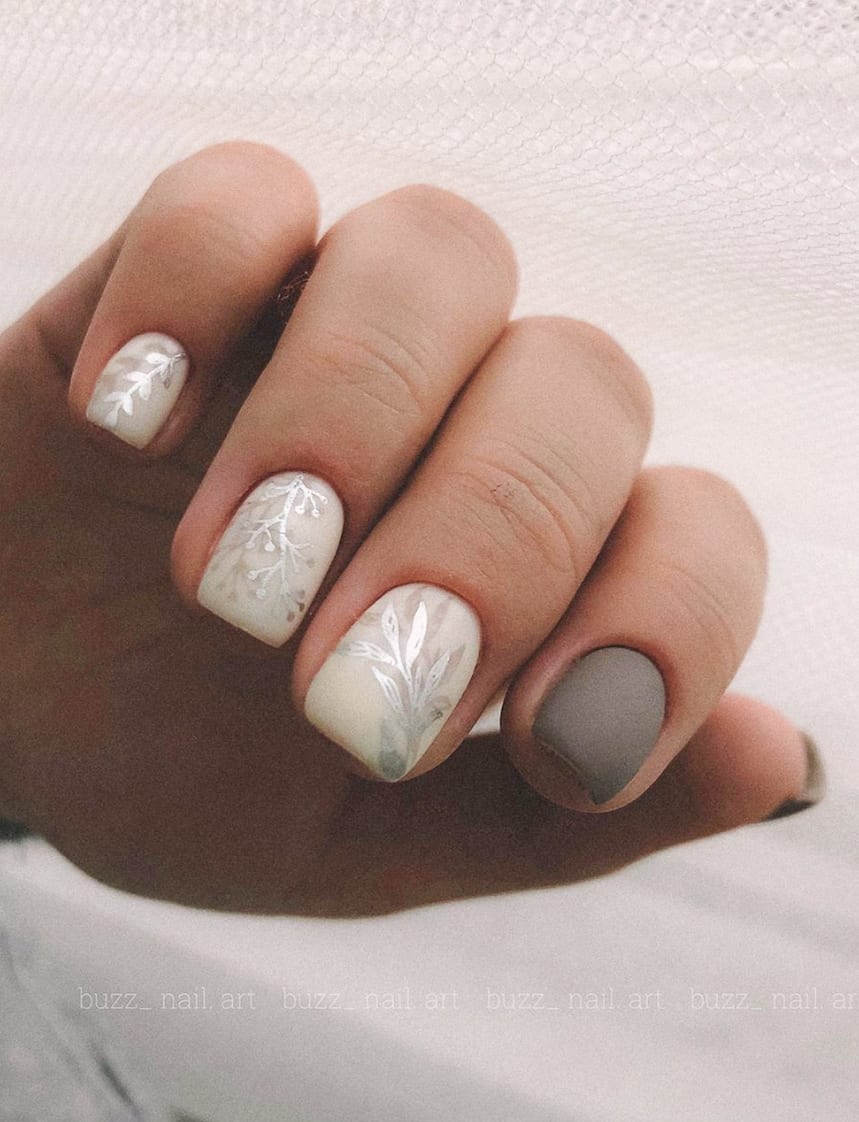 Source: Via Instagram @buzz_nail.art
There are so many lovely and stylish Christmas nails to select from! Here is another post about amazing Christmas nail design ideas for you: Christmas nail design ideas to wear this Xmas.
Whatever nail color or nail art you pick, you'll feel festive and ready for Christmas! We hope that this list has encouraged you to acquire the ideal manicures for the holiday.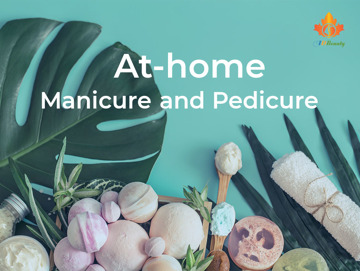 There are several reasons why we get manicures and pedicures. Two of the most popular motives for having one's nails done at a salon or spa are fashion and design. You can do this by either applying artificial nails or shaping and painting your own. Sometimes you need expert assistance to carry out an artistic notion or nail design idea the way you want.