Features
Means of popularizing nails & spa' images to Customers
INTERFACES WAREHOUSE
Stand out with a variety of nail design websites
Multiple choices with many new and attractive interfaces.
Easy to use through Chrome, Safari, Firefox, etc.
Compatibility with a variety of computer screens, laptops, mobile phones.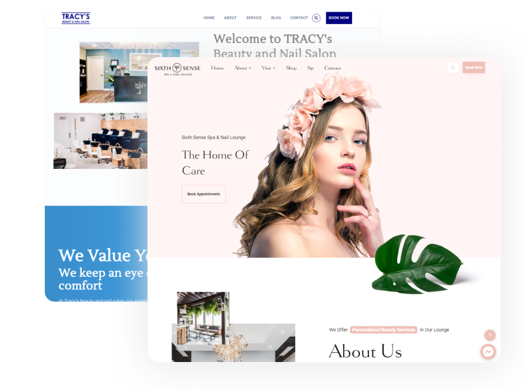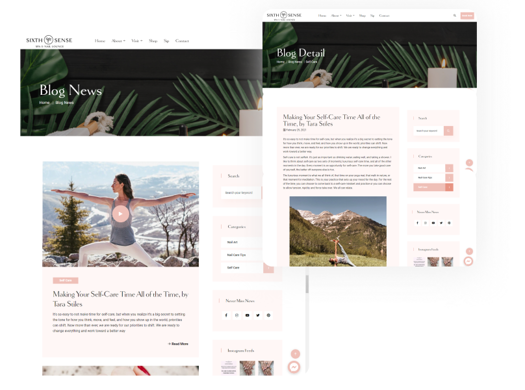 PAGES AND POSTS MANAGEMENT
Easily management and blog posting
Strict information management, easy to create and edit pages.
Create posts quickly with simple steps.
BOOKING MANAGEMENT
Manage and closely control the Guest's appointment schedule.
The registration forms to book appointments, the customer's information are intuitive and friendly.
Link the IDBeauty software to manage the information of Customers' appointment bookings on the website forms.
Displays the status of successfully sending appointment bookings.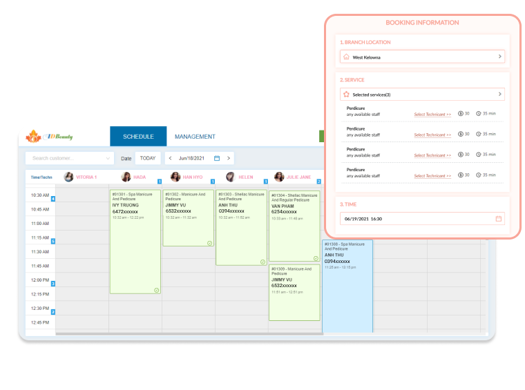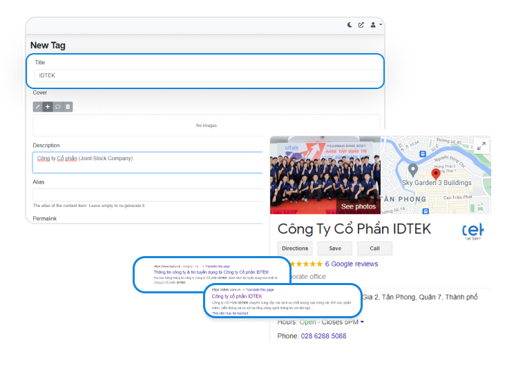 OPTIMIZE THE SEO SEARCH ENGINE
Increase your Google rating by using a high-ranked SEO keyword
Allow customizing the Posts' Titles, Descriptions and Page links tags on the website.
Resize images when uploading and adding ALT tags.
POPUP WINDOW MANAGEMENT
Smart popup window
Display messages according to the setup contents.
Increase Customer conversions with popup navigation to the contact information pages.
Support to display on mobile interfaces.
Display popup according to settings condition (appears on pages by setting or all).
The cookie storage options allow identifying relevant information about the users for later uses.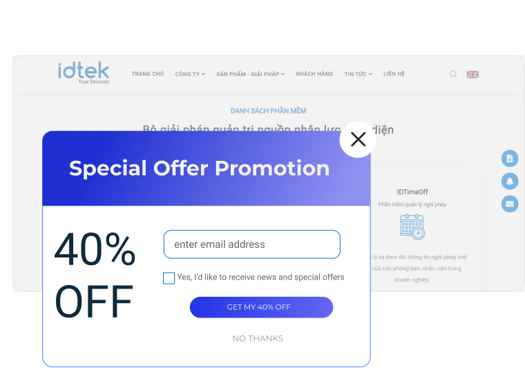 CUSTOMER EXPERIENCE
What people say to us
The website interface is friendly and easy to use. The design of the website is beautiful and eye-catching, my customers give a lot of compliments to the website, so I also feel very happy and satisfied. Thank IDTEK and your team very much!
Tracy (Mrs.)
Salon TRACY's Owner
I greatly appreciate the hard work and effort of IDTEK for our website. Your customer service and support along with the thorough spirit of the staff make me extremely satisfied. Thank you very much!
Hoàng (Mr.)
Sixth Sense Spa & Nail Lounge
With just a few simple steps, I can easily create an appointment, and not to worry about forgetting or losing my customer's appointment anymore. User-friendly interface and very simple to use! I can manage salon by a computer or smartphone now.
Nguyên (Mr.)
Owner of salon Nails For You Stouffville
I feel more secure when I receive a message to remind me about the manicure scheduled appointment, it feels so good to be cared for as I am a special one! Now I can take care of my family and home whilst unforgetting to take care of myself.
Debie (Ms.)
Customer of salon Nails For You Georgian Mall
Frequently Asked Questions
Don't hesitate to raise your questions. We are always ready to answer all of your questions!
What pricing will my salon fit?
Depending on your needs and requirements, IDTEK Canada Corp will do consult and design based on your own specific ones. For more information and answered questions, please call: (+1) 647-948-8678 or leave your contact information in the form below.
Do I need to pay any fees after handing over the website?
In case you use hosting and domain name rental services for the website provided by IDTEK Canada Corp., you are kindly requested to pay the annual rental and maintenance fees according to the price list we have provided. During using the website, our team will support you to maintain, fix errors and upgrade the website.
If not, we will not charge any additional service fees, and commit to assist in solving problems arising when using the website after completing to hand over the product to you.
What kind of support does IDTEK Canada Corp offer?
Website products designed and programmed by IDTEK Canada Corp will be guaranteed for a lifetime if you have registered to use our hosting and domain name rental services. In case of technical and software problems, IDTEK Canada Corp commits to support customers to consult and handle errors arising.
Regarding the product upgrade policy, We continuously improve the products, regularly update new free versions, upgrade and add new features to meet the needs of customers. For more information, please contact the phone number below.
Contact Us
Please leave your contact information and we will get back to you as soon as possible.